Countries around the world are committed to taking concrete steps to slow down the impact on the environment. India, with an ambitious target of achieving Net Zero emissions by 2070, is taking huge strides to control the carbon footprint. The call-to-action for India Inc is to do our part in contributing to the country's goal and overall sustainability cause.

Challenges in monitoring corporate travel emissions

Towards this end, a recent SEBI update on Business Responsibility and Sustainability Reporting (BRSR) has made it mandatory for the top 1000 listed companies to monitor, measure, and report their emissions. Organizations, therefore, are looking for smart and innovative solutions to enhance their reporting experience and further their sustainability journey, including monitoring and controlling their corporate travel emissions.

However, there are some key challenges that organizations are facing now. These include:
Lack of end-to-end automation, requiring manual intervention to monitor and report emissions data
Difficulty in collecting and processing data related to Scope 3 GHG emissions
High turnaround time for report preparation involving multiple stakeholders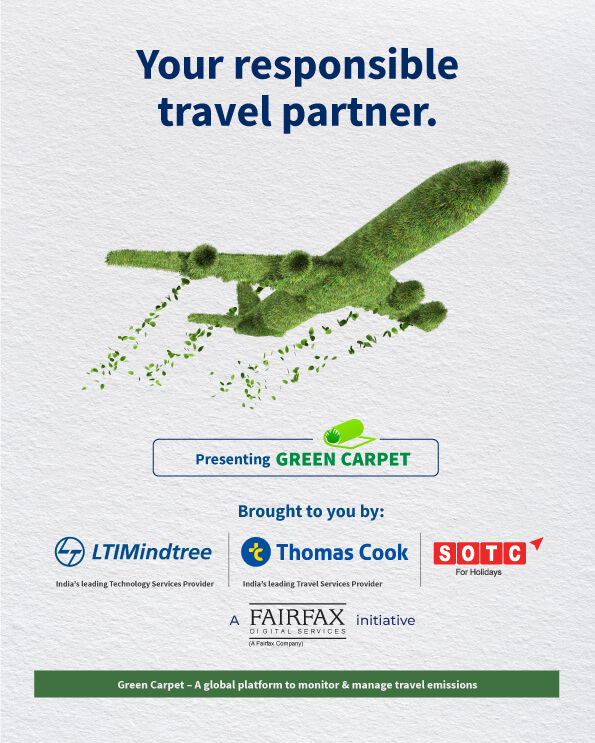 This is where Green Carpet, a SaaS-based platform for tracking and controlling travel emissions, can help.
An initiative led by Fairfax Digital Services, Green Carpet brings together LTIMindtree's expertise in ESG consulting and digital solutions and Thomas Cook (India) Limited's in-depth knowledge of the travel and hospitality industries. Green Carpet is an automated ESG platform that helps organizations monitor, manage and report business travel emissions. By leveraging your corporate travel data, this platform transforms the process of manual reporting to real-time, automated reporting that provides actionable intelligence.
How does Green Carpet help organization in their sustainability journey? Green Carpet has been designed to automate most manual processes in monitoring and reporting business travel. The key features of the platform include:
Simplified data capture & analysis of travel emissions with real time dashboards
Adherence to BRSR and aligned to global audit requirements
Swift and easy integration with current business travel platforms of corporates
Advanced AI & ML to provide analytics
Decision making to drive enterprise net zero goals
Make your business travels greener, today.
Contact us
to know more about Green Carpet.