Leverage IoT for your business transformation
Mindtree NxT helps organizations become future-ready through thoughtful deployment of IoT, AI, and GeoSpatial technologies. Our intelligent solutions deliver agility, profitability, and a more human-centric approach to business.
Mindtree NxT configures IoT-enabled and AI-powered solutions that transform asset utilization, infrastructure management, locational intelligence, and workforce optimization for a wide range of industrial organizations. Our clients know they need to embrace digital technology and Industry 4.0 strategies—and they look to us to provide the guidance and technology they need to make successful end-to-end transformations.
Mindtree NxT provides the strategies organizations need to thrive in a hyper-connected, cloud-first world. Mindtree NxT brings those strategies to life with IoT-enabled and AI-powered solutions — as well as other emerging technologies. Together, we help organizations innovate, discover new operational savings, and achieve sustained growth.
Our Offerings
Build a future-ready enterprise with Mindtree NxT offerings. We help our clients create resilient and future-ready ecosystems
where traditional silos are replaced with real-time sharing of data-driven views of production and business processes—and much richer and more timely analytics.
Derive intelligence from a connected ecosystem of workers, machines, locations, and business processes with this analytics platform.
Deploy solutions built on AI, machine learning, robotics, and IIoT to give manufacturers a competitive edge.
Collect and analyze high-value data from all parts of the mining value chain.
Cutting-edge platform fueling digital adoption by connecting construction firm's assets, workers, materials, projects, geography, and added Intelligence.
"Connected devices—the Internet of Things (IoT)—have profoundly changed how we interact with the world around us. Businesses are solving the classic big data problem by accelerating the adoption of IoT devices to unlock the insights that build the connected enterprise of tomorrow. Mindtree NxT helps getting businesses to the future, faster."
—Sriram K, Head – Service Line Markets & Strategic Engagements, North America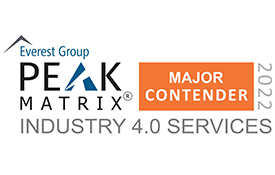 Mindtree NxT Named a Major Contender in Everest Group's Industry 4.0 Services PEAK Matrix® Assessment 2022


Digital Fleet Management

Transform Legacy Environments into Hyper-Connected Ecosystem...

LTIMindtree and AT&T Partner to Build Specialized Connected ...

Cold Chain Monitoring Solution
It enables last mile visibility of exposed temperature of perishable products with time stamp.

Digital Command Centre
LTI's Digital Command Centre, powered by AWS is a bundled solution for data acquisition at the edge, data management, and KPI monitoring and analysis.

Accelerating Together to a Net Zero Future
our easy-to-adopt & customizable ESG NxT platform with prebuilt components helps reduce the time-to-market.

ESG Service Offerings
We provides a blend of green technology, intelligence services, and accelerators that assist our client in their ESG narratives.

ESG Success Stories
Know more about how we can help ensure a sustainable future by catalyzing your ESG goals.

Enabled IIoT-powered remote monitoring system for largest co...
Provided real-time machine utilization, parts servicing, and energy consumption insights to a large Asian construction company to enhance productivity.

Employee monitoring solution to ensure safety and availabili...
Enabled the client to gain zone-wise workforce visibility and availability to effectively utilize their workforce.

Reduced non-compliance occurrences and remediation time for ...
Capturing 10K+ non-compliance instances by installing a video monitoring solution at a fabrication yard.

Connected manufacturing solution for remote monitoring of ef...
The powerful Insights NxT platform, with its out-of-the-box connectivity, was deployed to bring all the data to a common destination.

Digitization of mines for India's largest cement manufactu...
LTIMindtree NxT provided 15%-20% productivity improvement and over 10% cost optimization across mining operations.

How smart worker technology keeps your workforce safe

Modern materials tracking: How to choose an effective platfo...

Thriving on the edge insights to extract maximum value from ...

Central data insights: The accelerator and sustainer of cont...

Digital transformation is unearthing new potential in underg...

GeoSpatial solutions will transform the construction process

4-Step holistic manufacturing strategy for the 4th industria...

Future-proof your business with knowledge management using c...