Digital Transformation has emerged as a powerful lever to unlock new efficiencies and value for Chemical Businesses. Almost all CXOs we have spoken to have Digital in their top three priorities and over half of them have realized value from their Digital investments. But most of these are from point solutions to solve known business problems and only a small minority have developed a well-defined Digital Strategy and Roadmap for Digital adoption.
Traditionally, the Chemicals segment has lagged adjacent industries such as Refineries in digital adoption, but now many of them are leveraging the learnings from Refinery digitization to accelerate their digital journeys. While 50% – 60% of the gross margins of chemical plants depends on the cost of raw materials, well thought through digital solutions have shown to drive 15% increase in throughput, up to 2% increase in yield and 4% in energy savings.
In today's environment of macroeconomic uncertainty, demand and price volatility and the global disruption caused by COVID-19, cost efficiency and remote monitoring capabilities are not just nice to have, but critical pillars of Business Continuity.
Given that chemical business had lagged their refining counterparts, they are leveraging learnings from these segments to accelerate their digital journey. Our experience indicates that this success is not just dependent on the successful implementation of technology, but rather on reimagining all aspects of plant operations through the digital lens.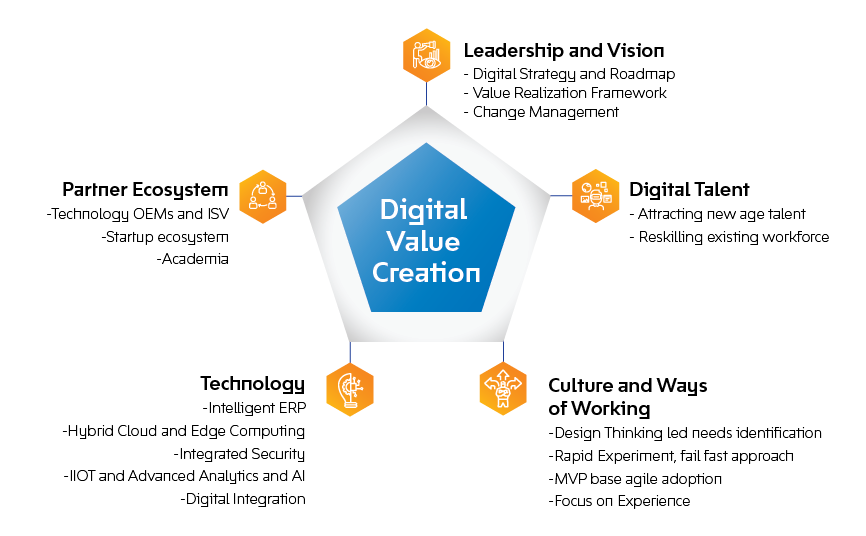 Digital Technologies have the potential to unlock significant value across the Chemicals Value Chain

We offer ERP implementation, consolidation, migration and global support services across the entire process manufacturing value chain

Improve organization learning and process enterprise data effectively to achieve business goals, with our Manufacturing Information Management services

LTIMindtree's IT capabilities can significantly help reduce the overall costs and execution time of your major capital projects

Our IT solutions provide process manufacturers an enterprise-wide view of operational health, thus improving asset efficiency and business agility
Evaluate, plan and accelerate your journey to realizing truly digital plant operations with LTIMindtree's operations and maintenance digitization offerings
Achieve greater returns on assets by integrating diverse technologies in real-time and standardizing business processes

Our technology solutions span across the entire processing value chain including sales, marketing, supply chain and customer service
Process Improvement Suggestion (PIS)
PIS tool is a plug and play accelerator for 'Suggestion management'. It allows end-users to enter process improvement suggestions online.

EzTA
Developed on Sap NetWeaver, it enables employees to analyze recurring problems, review the analysis, suggest and track various problem-reduction recommendations.


Stabilized Sales Processes for World Leader in Building Mate...
Learn how LTIMindtree helped in 80% improvement of MEA user adoption for a Building Material industry giant

Automated Financial Transactions Reconciliation for a Global...

Integrated Consignment Management Improves Vehicle Utilizati...

Industry 4.0 at scale for US-based O&G Major

Optimization of Logistic Process with Automatic Bag Counting...

Technology Helping Industries Achieve Health & Safety Goals

Tech Trends in Remote Asset Management

Revisiting Enterprise Mobility in Process Industries

Divestiture Planning- Carving out Future Ready Enterprises

Digital Opportunities for the Paper & Pulp Industries