Engineering
&

Construction Industry Trends
Global Engineering and Construction (E&C) companies have seen some really challenging times in the recent past, amidst uncertain macroeconomic conditions and a rising trend of inorganic consolidation. Firms are eyeing diversification to tap the growth in emerging markets, as well as to expand offerings to effectively cater to demanding customers. The complexity of E&C projects is only growing. Meanwhile, disparate business processes, dynamic regulatory norms, increased execution risk and technological innovations have led to severe margin pressures in the industry. E&C organizations will need to establish more efficient, integrated workflows, and enhance their risk management practices to stay profitable in the face of volatility.
LTIMindtree helps E&C and engineering consulting firms optimize their IT operations, and integrate operational parameters with enterprise-level decision-making processes.E&C companies can reduce operational cost & complexity, and effectively address project risks and compliance with SAP solutions. LTIMindtree., with its strong domain experience and industry experts, helps Engineering & Construction (E&C) companies to simplify, innovate and accelerate projects. We offer end-to-end solutions, which address the processes, right from bidding to complete execution.
Capturing vast intricacies pertaining to multiple dimensions during planning and execution of large scale Engineering, Construction & Operations (EC&O) projects, and effectively tracking & harnessing them for clinical execution, is one of the key success factors in the EC&O industry. Traditionally, enterprises have strived hard to achieve this goal in constrained environments, with highly industry-specific process nuances & data, fragmented processes, heterogeneous landscapes, high physical-digital divide. LTIMindtree has blended its deep industry expertise with S/4HANA & Cloud Innovation capabilities to create enterprise solution.

Solution to enable seamless project planning process by integrating planning related data maintained in industry standard estimation and planning tools with SAP S/4HANA
Establishing Cost/ Budget / Revenue / Quantity plan baselines with spread across project timeline as per progressive planning

Easy to use intuitive application to capture eight dimensions (non-financial) of Project Management via handheld devices

Comprehensive solution to manage project resources (Staff, Labour, Equipment) throughout the project lifecycle in accordance with budget and timeline

Efficiently manage project payments by providing visibility & control over capturing progress and corresponding payment applications

360° Analysis of Project Performance based on inputs from different sources – SAP, Primavera, Cloud Solutions etc.
LTI Wins 2020 SAP® Pinnacle Award as the Industry Innovation Partner of the Year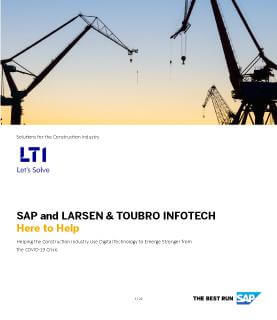 SAP & LTIMindtree powered Digital transformation enables Construction companies stay resilient and re-emerge stronger, while minimizing Digital Transformation risks.
Download the Whitepaper to understand how LTIMindtree's Digital EC&O Solution accelerates the Digital Transformation journey in Workforce Management, Customer Experience, and Project Planning Methodologies for construction companies.
Whitepaper